In the last few tournaments Roger has implemented something dramatically new.
On second serves, as the opponent begins tossing the ball, Roger darts forward to the service line to take the ball on the rise.
He indicates this is "fun" and though sometimes it backfires, he used it to good effect against Djokovic in a recent tiebreaker, and perhaps it has ruffled Novak's feathers ever so slightly.
There is a story here – and it has to do with time and the rather new if not modern method of flexing the body well forward – as seen by the leg kick.  And yes, in 2012 the USTA was using Sharapova's leg kick as some type of (hugely incorrect) model.
But if the server is still gathering themselves to regain their balance as Roger's ball is actually crossing the net – this tactic works particularly well against those off balance servers.
Could the men counter this tactic – yes by standing perhaps 4 feet behind the baseline when serving – but they cannot move back during the motion as Roger charges.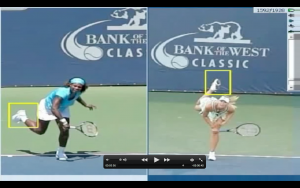 Once in the 1960's players always had to keep at least one foot on the ground during the serve – but the jumping leaping and in some cases awkwardly throwing oneself into the serve has followed the rule change.
One example of the role of balance on the serve – is the contrasting leg kick on the finish of the serve of Serena when compared to Maria.  You be the judge.
Here is a hunch from your coach at this end – Roger's opponents  will adapt by quickly stepping back against this half volley chip and charge – I will bet that the next version we will see from Roger is a heavily underpinning drop shot winner!