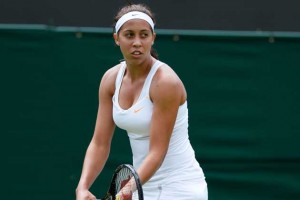 Madison keys, a mere 20 years old even though she turned pro in 2009, after break out performances in both the Australian Open and Wimbledon, is presently ranked 18 in the world with a huge upside.
Just this year in the Australian Open she lost to eventual winner Serena Williams  76 62, and at the Australian Open she reached the quarterfinals before losing to Radwanska (also in the Bank of the West field) 76 36 63.
An interesting side story, Madison is coached by Lindsay Davenport.
And Davenport also has a history at our Bank of the West tournament. Before moving to Stanford this event was played in Oakland, and in her first year 1993 she lost to eventual champion Martina Navratilova, but captured the title in 1998, 199 and 2004.
In each year she beat Venus Williams and over the years Lindsay won 55 singles title and amassed over $22 million in prize money.
But back to Madison – here we have a serve – a really really good serve.  Great use of the legs, great amount of spin, easily opening the court with sidespin to the deuce and kick to the ad – I wonder why this is so rare in women's tennis – but that is just a question without necessarily a good answer.  My guess, Madison had a great "arm" as a child throwing baseballs – but that is just a guess.
But there is more to the game, alas, than the serve.  In the second round on Wednesday night Madison keys fell to Aja Tomljanovic 16 64 61..  "My timing was off, everything was off," said Keys, who had tears in her eyes. "It just wasn't my night, and it was frustrating. But obviously, she played really well. All the credit to her."
 Serve and return – the name of the game.  And perhaps sometimes the big servers are waining if not expecting more free points than some wily receivers are willing to give.  That may explain this one.