Opening thoughts, day one, Bank of the West WTA tournament at Stanford.
Serena has withdrawn earlier in the week, but the field is as strong as ever – there will be competitive matches throughout, surprising upsets – I am hoping the local crowd will come and embrace the tennis.
Bu there is something about the surprising upsets.  To my eye, WTA tennis is about grinding, about long rallies, about matches won or lost with the smallest of margins – depending on who hits close to and inside the line on big points, and how hits just outside the line on those same points.  And absent a Serena-like serve, many if not most of the players are committed to this style of play.
Case in point, after an amazing 2014, Eugenie Bouchard has yet to recapture her form, and absent a wicked serve – she is missing the main tool in anyone's tool box – the wicked sidespin or kick serve that opens the court.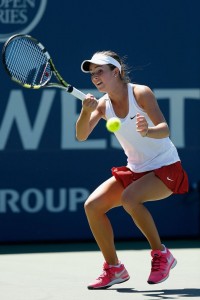 In the first round CiCi Bellis, the local phenom, received a well deserved wild card into the main draw. Formerly the number one junior tennis player in the world, at the 2014 US Open she defeated that same years Australian Open runner up Dominika Cibulkova and became the youngest player to win a match in the US Open since Anna Kournikova won at age 15 in 1966.
Bellis drew Japanese qualifier Misaki Doi – and as proficient off the ground, Doi possessed a wicked left handed side spin serve (think Rafa) which opened the court many many times enabling Doi to finish with forehand winners to the opposite side.  But what was most telling to me, Doi, with an uncharacteristic abbreviated motion – hit many aces up the middle as Cici was out side guarding the sidespin delivery.
Doi was cruising at 63 54 serving for the match when she played a very poor service game, was broken easily, CiCi then held and had two break point/set points on Doi's serve – but she righted the ship, held, forced the tiebreaker, and finished the match with an ace up the middle to the ad court.
We will see quite a bit more from this talented local junior, at my end I am hoping she develops a wicked serve – think Madison Keys and put that on Bellis and then we have something BIG. VERY BIG.