Work on your game, each and every month, with an actionable lesson plan - you will play better - Guaranteed.
Every month a specific theme is developed with a series of interrelated lessons.  Imagine your coach telling you, "This month I want you to practice these skills to improve your return of serve."
The ETI Network is designed to help you in a systematic way to play better tennis.
Keep the bonuses! Try it for at least 30 days and you get to keep the three bonuses listed below - valued at $250!
Yes, I want in! I want to access to over 5 years worth of lessons in the ETI Network right now.
normal retail price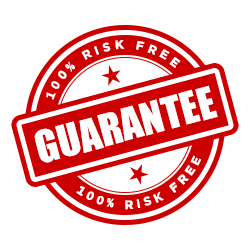 TODAY ONLY - SAVE OVER 70%
$10/MONTH or $97/YEAR
Plus get the 3 additional bonuses below valued at $250
Here's What You're Going to Learn...
Work on your game each and every month in a systematic fashion.  Follow lessons and watch your game improve.
Join a like minded online community dedicated to their game.  Ask questions, get answers and pass what you learn on to others...
Actionable lesson plans with detailed drills you can take to the court. Improve on any aspect of your game.
We cover all areas of the game - strokes, tactics, singles, doubles, footwork, and the all important material between your ears - playing the mental game
Totally interactive - upload videos for a personalized review, join the conversation to see what others are learning, and most importantly communicate with Jim for all your playing needs.
Get these amazing bonuses when you sign up today
ETI Personalized Stroke Review - valued at $97
If a picture is worth a thousand words, and a video is by extension worth many thousand words – I believe our unique "Stroke Review – Foundational Coaching Method" – will be priceless.
Personalized Stroke Review
Submit your topspin forehand, your cross court backhand, your return of serve, your movement to the ball, or any particular aspect of your game.One type of shot per review, include three examples of this stroke from two separate camera angles.
Receive a lucid evaluation with structured feedback and specific takeaways to improve your technique as well as your results.
Foundational Coaching Method – Center to Periphery
Your custom review proceeds from the ground up, and within this method the center will always be primary, and generally the cause of any and all peripheral concerns
Analysis of your center includes evaluation of balance, stance, use of legs, posture and core, and overall effort.
Analysis of your periphery includes swing path, grip, timing and tempo.
My personal review of your video, combined with your own self assessment, allows me to create your own custom evaluation, with both an analysis of technique and specific practice recommendations so that you can make the needed corrections and improvements.
Self Assessment
This self assessment gives me a chance to see how you got to this point, and what you feel about it, as well as what others may have suggested that either did or did not work.
ETI Streamlining - valued at $47
Flowing.
Swinging easily yet hitting hard.
Tennis is a game of rhythm where players are rewarded with effortless swings. But the secret lies (and yes there always seems to be a secret) in using your body and arms naturally, very much like the rhythm and feel of an overhand throwing motion.
Discover the elements of pulling, sequencing, shift of weight and lagging – and imprint this on your forehand and your serve.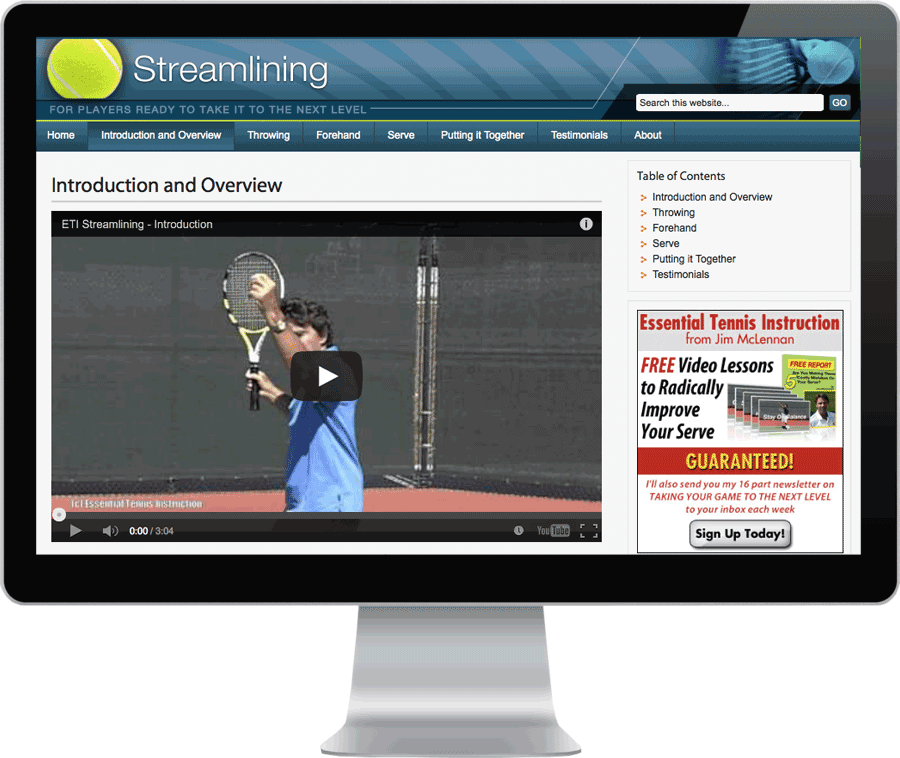 Mastering The Forehand - valued at $97
The Modern Forehand – more spin, more power, more offense, more consistency– let's work on yours!
Your all inclusive, step by step method to master the elements of the forehand. The lessons in each of the key sections can also be downloaded for your convenience.
In this course you will…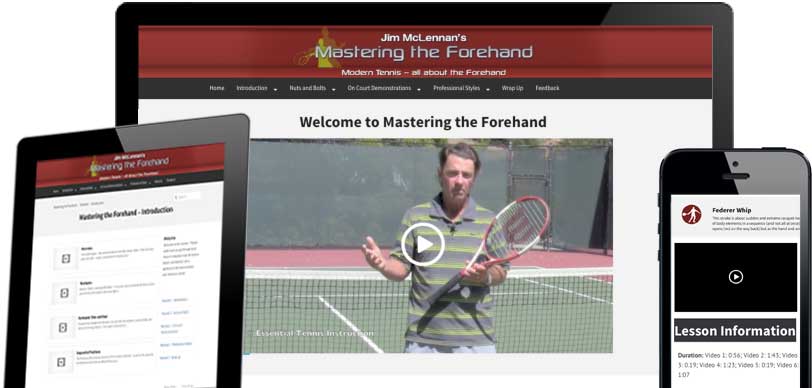 Learn the foundational elements of a rock solid forehand
Follow a step-by-step, how to manual with specific drills
Use detailed slow motion analysis
See actual examples from Federer, Nadal, Djokovic, Del Potro and Murray
Explore how varying forehand grips influence spin and speed – and importantly how the point of contact varies with each grip
Learn how to create more racquet speed with less effort
Turn your own forehand into a legitimate weapon
Look at What Other People Are Saying...
Of all the tennis experts who are around, I consider Jim the absolute guru of the serve. My serve is now the best and most reliable its ever been. I savor serving to close out a set at 5-4, or to stay in it at 4-5. I greatly value the advice Jim gives and what is in his voluminous archives. I recommend ETI to all my tennis buddies and teammates.

Greg Franzo
Jim possesses a deep understanding of the game and unique ability with words. His thoughts convey the intention of making each reader better through self-knowledge and his words are clear and visual.

Michael Jessup,

formerly ATP ranked 300
I really appreciate your humble tone combined with a true passion to learn. Most people with even a small part of your knowledge base can have an edge of over-confidence. Yours is the edge of being a true student of the game and you share it eloquently with the rest of us. Thank you for all your contributions.

Joe Dinoffer, OncourtOffcourt.com
As one of the few master instructors found online, you consistently simplify the complex for your followers. I hope they appreciate the tens of thousands of hours and years you have devoted to your expertise...it shows! Your site is one of only a handful that I will confidently send my students and online followers to for the fundamentals of the game. Keep up the great work!

Scott Harper
I've signed up for two other on-line tennis "courses" in the past and Mr. McLennan's was decidedly the best. Unique, concise, genuinely helpful.

Bruce Wallace,

Reno, NV, USA

100% Money Back Guarantee
My guarantee is very simple. Within 30 days, if you are unsatisfied for any reason, you will receive a courteous and prompt refund. No questions, no receipt required, no fine print, no nothing…You just get 100% of your money back if you are not happy.


Instant access to over 400 lessons in ETI Network including videos and instructional material. If you had to take these lessons directly with me you would be spending over $2,500 (not to mention you couldn't watch them over and over again like you can here)
Personalized Stroke Review – you get an additional personalized review by me with advice on how to improve your own forehand – valued at $97
Mastering The Forehand - get more spin, more power, more offense, more consistency – let's work on yours! Your all inclusive, step by step method to master the elements of the forehand. Valued at $97
ETI Streamlining – learn how you can imprint an overhand throwing motion on your forehand and serve – value $47
So that's over $2,700 worth of product that you get for only $10 per month or $97 per year.  Crazy, I know.  What are you waiting for? Let's get started.