Are you tired of signing up for an online service that either pours on the instructional content such that you have no idea where to start, or just doesn't deliver the goods?
I have spent years trying to figure out how to deliver training in a way that is digestible and actionable. I mean, I want it to be easy to learn.
I've come up with the ideal solution.
I call it the ETI•Network and its a one of a kind on line membership community.
You see, each and every month we focus on a different theme with actionable lessons plans.
So who is it for?
ETI Network is designed for players actively working to take their game to the next level. If you play 2 - 3 times a week then this is for you. If you don't then stop here.

OK, so what's included?

Each month's lesson plan includes - video lessons, on court diagrams, articles and stroke analyses - all revolve around specific themes with well defined action plans. All monthly topics are presented within the following five categories.

| | |
| --- | --- |
| | Between the Lines – presents actual on court diagrams, with sequences of shots, discussion of angle of play, and shot selection based on court positioning |
| | Mind Games – explores the mental side of the game |
| | On Court Video Lessons – detailed presentation of techniques specific to the monthly theme |
| | Hot Seat – presents an online review of a member's stroke – where the video submitted by the member, as well as the online analysis are available to the entire network. The Hot Seat offers a unique insight into common problems with proven corrections. |
| | Ask Jim - a discussion of a commonly asked questions submitted by the membership community. |
In sum, each monthly issue presents an organized theme where all the articles, videos, court diagrams and hot seat reviews focus you on a specific action plan.
To date we have covered the following topics in ETI Network:
Between The Lines
On Court Lessons

The Angle of Play
Countering – the Second Shot Pass
Covering (nearly all of) the Angles
Ad Court Drive
Deuce Court Return of Serve Lob – Down the Line Spells Trouble
Return the Ball Crosscourt – in Front of Your Partner
Two Against One – take the net when returning the second serve
Pulling the Trigger
The Inside Out Forehand
Approaching Up the Line
Volleying to the Open Court
Wide Serve to the Deuce Court
Wide Serve to the Ad Court - Topspin
Matching Swing Path to the Incoming Ball

The Pick Up
The Backcourt Volley
Measure Twice Cut Once
Looking for the Bounce Hit on the Other Side of the Net
Volleying to the Open Court – for an Untouched Winner
Deuce Court Return of Serve Lob
Ad Court Return Up the Middle
Get the Return of the First Serve in Play!!!!
Volley to the Open Court
Pulling the Trigger
The Inside Out Forehand
Forehand Approach
Thoughts on the Volley
The Leading Elbow
Topspin and the Racquet Drop
One-handed backhand - Preparation and Swing Path
One-handed backhand - Preparation Grip and Points of Contact

Mind Games
Ask Jim

Relishing No Mans Land (NML)
The Art of Winning – Its all about Information
When to Move – Drawing or Intercepting the Ball
Plan B
Embracing the Basics of Doubles
Two Against One – Tactical Plans for Offense and Defense
Partnering – Communicate, Assist, Compliment – in that order
The Zone
Decision Making
Resilience
The Tom Stow System
Building Self Confidence – as written by Fred Earle
Self Efficacy – learning from your mistakes
Rehearsal - correcting errors on court
Purposeful drop hits

How to Avoid Playing to the Opponent's Style
How Can I Pass of the Up the Line Volley?
What are good exercises for imparting topspin?
How can I feel a loose grip and a firm contact?
Why is the racquet off line from the forearm at impact?
How do I use my feet during the serve?
What is the correct grip firmness when volleying?
How do I get on balance before setting up to hit the ball?
How do I position my wrist in the trophy position on the serve?
What exactly am I turning on the unit turn?
How aggressive should I be at the net when poaching?
How do I approach (up the line) against a lefty?
What should I do when playing a pusher?
What's Up with the Women's Serves at the US Open?
What exactly is a drop step?
What is pulling on the two handed backhand?
What is the feel for a half volley?
How can I strengthen the rotator cuff?
How can I disguise my serve
Should I pronate my wrist for every type of serve?
How does one co-ordinate the toss with the swing
Where does the racquet contact the ball on a kick serve?
How do the pros disguise their serves?
In sum, each monthly issue presents an organized theme where all the articles, videos, court diagrams and hot seat reviews focus you on a specific action plan.
Take a quick tour...


Sort of like a coach telling you, "OK, for July lets work all month on how to open the court with your serve – this will include techniques for side spin and topspin, patterns of play depending on your opponents return, mental aspects that will keep you on track during the month, and a live review of a serve that gives you (hopefully) insight into your own service delivery."

To which you would hopefully reply, "OK coach, when do we get started?"

"Right Now!"
Who am I and why should you listen to me?
A good question. But first a genuine proviso.
So much of the tennis teaching craft entails self promotion. Whether in person, or online, teachers are selling themselves.
But there is no way for you to know whether a former player will be a good teacher.

And no way to know if the methods of a teacher will speak to your own learning style.
I hope you judge me simply by the tone and content of the posts you have received.
That said, the following is a simple thumbnail of my background:
As a player and teacher for 40 plus years I am the sum total of the coaching I received from Blackie Jones, Tom Stow and Don Kerr.
Blackie Jones was our neighborhood coach, but from a small group of young boys we have 5 full time tennis professionals and one who reached a top twenty world ranking
Tom Stow, "the Maestro,", coached American Grand Slam Champion Don Budge, pioneered teaching the All Court Forcing Game, and legions of players and teachers flowed from his work at the Berkeley Tennis Club and then Silverado Resort
Don Kerr, Tulane tennis coach and genuine Renaissance Man authored work on gravity motion, and brought insights from his work with world champion badminton players to the tennis world. Interestingly the badminton clear is an exact copy of the Sampras service motion.
I played four years of college tennis, first at Chico State and then for Cal Berkeley
I have held regional and national rankings in men's open and senior divisions
I developed and patented a teaching aide, "the Whistler", and used the device to study the effects of biomechanical feedback on the serve.
Presented dozens of seminars on the serve, gravity motion (footwork) and teaching methods to regional, national and international tennis teacher conferences.
Editor of TennisOne.com
Tennis Director at Fremont Hills Country Club in Los Altos Hills, California
Created The Secrets of World Class Footwork - featuring Stefan Edberg (video) and Tennis Footwork – the complete training manual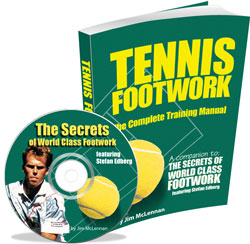 I continue to study the art and science of the tennis teaching craft and think of myself as a life long student of the game.
Below are
testimonials from subscribers to my free report and email tennis tips.
Let them speak for themselves.
---
"One of my 16 year old juniors loosened his grip and the serve improved almost immediately"
- Kevin Hawkesworth
United Kingdom
---
"Your tip on the 3R's - ready/read/react was amazing. After I received this tip, I went out the next day to put it into use and what an amazing game I had.
I was able to put more points away because I was actually getting to the balls with plenty of time to get set up and react. Thanks so much. I can't wait to receive more tips from you and I cannot say enough how much I appreciate your help with my tennis."
-Betty Huang
Vancouver, BC
Canada
---
"Jim, after reading "Are you making these 5 costly mistakes on your serve?" I was able to implement the techniques and gain some additional power on my serve.
In addition, my balance is better and thus I am moving better to my first shot. Thanks a million!"
- Bob Hartwick
Harbor Springs, MI
---
"Your serve tips have helped me improve my JV (Junior Varsity) tennis team's serves across the board"
- Ann Loose
Albuquerque, New Mexico
---
"Jim, your "5 costly mistakes" piece was very helpful. ... I found some specific nuggets. One example: You seem to promote the idea of separating the toss motion from the serve motion, and static balance is the way to do it. A big idea! Works for me! Thanks."
-Fred L. Carrillo
Hilton Head Island, SC
---
"Jim, Your report breaks the [details] down to something I can understand. I tried it out. It feels like that is the first time I know what I am doing when serving. Although it will take me some time to figure everything out and get used to the rhythm, the information immediately removes fear from me. I no longer fear what my next serve will come out as I now know exactly what goes wrong when my serve does not land in. To say the least, your report is a lighthouse to me. I think I have finally found the shore after all these years."
-Pluto Ng
Hong Kong
China
---
"Jim, After reading your serving report my eyes were opened: I was holding my racket much too firmly. After loosening my grip my serve improved and I do not get a sore arm after serving anymore. Thanks for the help."
- Daniel McCarry
Birmingham
United Kingdom
---
"Jim, First, let me thank you for the wonderful tips and instructions. Second, I want you to know that I am 63 years old, played tennis for over 40 years, and now I play every day. I have no talent for the game, but I am a student of the game. I usually identify a small thing to improve but it typically takes me at least 6 months to incorporate it in my game.
Anyway, a few days ago I read your piece about a "cop or a watchmaker", and it dawned on me that I should try watching the racquet head of the guys I hit with, just as you describe it. I tried it three days in a row with three different partners that I regularly play against. I've known that I strike the ball better than they do, but I had difficulties winning against them on a consistent basis.
Well, nothing short of a miracle happened!
The difference in our tennis ability materialized out of nowhere, I was never out of breath, most of the time in good position, and even toyed with them at times (a bit cheeky of me to say that!). To add to the enjoyment, the 3 gentlemen are respectively 35, 38 and 40 years old!
I confess that I have never experienced such instant improvement from such an excellent tip.
Many thanks"
T. N.
Canada