PMac and I have just returned from two outstanding days in the desert. And man was it hot!
The grounds, the stadiums, the venue – FANTASTIC
The fan support – AMAZING – as Sunday the 15th the day session general admission was sold out!!!
And hats of to Serena Williams and Larry Ellison for her return to the tournament – with all the news from Oklahoma fraternities, police issues in Ferguson and elsewhere – this was a warm welcome and wonderful story.  For her first match on the stadium court Larry was sitting with Bill Gates and John McEnroe – for this was a historic return.
Now to the tennis.
Kei Nishikori – Nick Bollitieri has said that Kei and Marcelo Rios where the best natural hitters he had ever had thru his academy.  We watched Kei practice on two occasions, as well as in his victory over Fernando Velasco.  To my eye, Nishikori has such confidence in his backhand, and such quick quick feet, that he is far less out of position than those (read Isner or Raonic) who run around their backhands to drive forehands but in the process give up valuable court position.  And the most telling situation was when he drove Fernando Verdasco wide backhand corner – when cross court Kei stepped up with a forehand winner down the line, and when Fernando went up the line Kei hammered backhand cross court winners.  Effortlessly, without grunting or even making it look like work.
Milos Raonic – we had fantastic seats for his match against Simon Bolelli of Italy. Third row, baseline seats, Stadium 2.  Best seats I have ever had.  Roanic is getting better, his movement improves (slowly) his balance is still an issue in my opinion (and he would be well served to read Mastering the Art of Running by Malcolm Balk – an Alexander Technique interpretation of posture and length in running but the same goes for tennis).  But to the serve – easily serving in the 140mph rang with effortless rhythm.  As a child he has said he was copying Sampras' technique – and perhaps he has taken it to another level.  Why or why did not anyone encourage (if not demand) that he learn to serve and volley.  Federer is amazing everyone with his embrace of this tactic – imagine Milos following his serve to the net – for the best most can do is to simply block the return.
Stan Wawrinka – again from our seats on the baseline of Stadium 2 – Stan posed a counter point to Milos – serving sometimes between 95 to 110mph on first serves, and only running around his backhand to finish points – certainly the one handed backhand is not for everyone – but if you are a fan or practitioner of this shot – his length, his spin, his net clearance, as well as his confidence – this is one of the best versions of the one handed backhand.  Look closely at this photo – and he is in a full if not low eastern backhand grip.  And when it comes to contact – he drives this ball from well out in front – no chip in this one.
Now to the business end of the BNP Paribas Mens Final – and what a classic, unexpected, even see saw affair.  In many ways Federer has inspired if not grown Djokovic – and after Fed's amazing serving in Dubai somehow I think Novak was motivated to show what he can do with his service delivery – for he showed this clearly in the semifinal contest against an overmatched (and poor serving) Andy Murray.
The following graphic, a screen grab from Tennis Channel (courtesy Jim Fawcette  ©jfawcette) showed the serve location in Dubai – where Novak faced and lost 2 break points and Fed faced 7 break points and was never broken.  And while everyone had been saying Federer has never served better, Novak seemed determined to change the course of that story.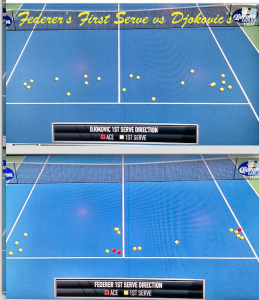 In the first set Novak converted 70% of his first serves and won 100% of those points played, against a meager 28% of the points won by Fed on his own second serve.  Routine first set 6-3.
Set two was different – Novak's serve numbers were down, 58% on first serve and he won 73% of those points he save 4 of 5 break points – but on Fed's side of the street he staged an improbable comeback when appearing to be out the door with a 36 26 loss – to capture the tiebreaker after Novak's serve deserted him.
In the third set form prevailed (meaning the world Number One righted the ship) – but here the story was Federer winning just one of 9 points on his second serve – truly unheard of.
But more and more Novak shows us how to play the game – serve with confidence and pin point accuracy to the corners, play truly error free tennis, and patrol the baseline so the opponent never has the luxury of the time the ensues when the opponent is 10 to 18 feet back of the baseline.
And what if Novak becomes even better – for it could happen.
PS – I am going through my extensive footage, and will soon unveil something new – working title (subject to change) – Deconstructing Professional Technique
The plan is to post footage of a sequence of shots, or a sequence of the same shot, initially without sound or content – to challenge you to watch repeatedly to get the image in your mind's eye.
Then – with minimal verbiage and "under analysis" if you will, I will draw your eyes to certain aspects of the form.  I came to this idea in graduate school, where a study showed that when gymnastic coaches of varying skill and expertise watch a performance, the eyes of the veteran coaches noticed different things than those of the neophyte coaches. And as often as not the veterans observe more the macro elements and the neophyte's are more commonly noticing and seeing the micro or peripheral issues.
I am not saying you are a neophyte, but that likely you may notice one thing while I may notice another – but hopefully I can draw your eyes away from nuance and more to the basics.  As an example, many notice how Milos Raonic holds his hand and wrist at the start of his service motion. But to me that is nuance, that is of some interest, but truly Raonic is about rhythm, let me say it again – RHYTHM.
My own experience with this watching/deconstructing thing was in Destin Florida.  Don Kerr, my coach and mentor from New Orleans would visit often.  A student would be on court and Don would ask, "What do you see?"  The game was for me to speak first, and then he would tell me what he saw.  In nearly every instance he pointed out something I did not notice, and in nearly every instance what he directed my eyes to see was somehow better or meaningful that what I had first noticed and mentioned.
So we will create "Deconstructing Professional Technique" to do the same with you.  This will also lead to some work on observational learning, and whether players can use visual templates to improve aspects of their game, and even whether with suitable training players can reduce the self talk and analysis and truly come to deal solely with the ball – which at the end of the day was and is the story within the Inner Game of Tennis.