The US Open mens final featured the best defensive player in the world – Novak Djokovic – against the best offensive player in the world – Roger Federer.
Paul Annacone, Federer's former coach said, "I think what happened is what happens to everybody against Novak. And the reason is that when you play Novak, the target goes from 12 inches to about 4 inches, and then you start to press. You try to serve too well, try to hit approach shots too well and then you overplay and start to make errors. And when you combine that with Novak playing really, really well that is what happens. Novak is the most effective defender in the world, and for an offensive player, the target gets very small, and to execute that for five sets is the hardest challenge in tennis right now."
Prior to the finals, Federer was on a roll, taking the ball earlier than ever and with his same fluid grace. And perhaps in each of these matches his targets were in fact 12 inches from the line. The set were scores
6-1, 6-2, 6-2;
6-1, 6-2, 6-1;
6-3, 6-4, 6-4;
7-6, 7-6, 7-5;
6-3, 6-3, 6-1;
6-4, 6-3, 6-1.
Roger played with supreme confidence against Isner in the round of 16, appeared to toy with Gasquet in the quarters and crushed Wawrinka in the semifinals.
But for sure everything would different with Djokovic, and the tone was set in the first game of the match. Federer weathered three break points  and held serve on the 16th point of the game. Patrick McEnroe observed "Djokovic was getting a good hit on every return."
As an aside, Roger's two victories over Djokovic earlier in the year were in Dubai 63 75 and in Cincinnati 76 63– both two of three set formats, and both on fast hard courts. Beating Novak in 5 sets within a Grand Slam final is a more daunting task.
Afer splitting the first two sets 64 and 57 the business end of this match as well as the US Open championships occurred within the third and fourth sets. And in those last two sets, both won by Novak 64 64 the statistics tell the story, and for sure Annacone's comments held true when analyzing the break points.
On the break points
Novak was 2 for 2 in the third set and 2 for 3 in the fourth set
Federer was 1 for 5 in the third set ad 1 for 6 in the fourth set
Said another way Djokovic won 13 of the 16 points played on break points – 80% of them, but over the four set match Djokovic won 147 points to Roger's 145.
In post match comments, Roger said he had many opportunities and lost, "Because of the mistakes I made. I have to get better at that. It's just pretty simple. Maybe I haven't played this offensive for a very long time," Federer said, "and that's maybe the reason maybe I was slightly shaky when it comes to the crunch on break points. Who knows?"
Novak has acknowledged that Rafa and Roger had made him get better. Now it will be up to Roger to get better, and as likely as not get even more confident playing offensive tennis against a man that gives him targets 4 inches from the line.
Running Around the Backhand
"The inside-out forehand is one of the most important shots in the game," Novak Djokovic said. "I look for every opportunity to do it."
And from Roger Federer, "If you ask guys what their favorite shot is, a lot would say the inside-out forehand."
In an earlier era, "Courier's was the most devastating," said Justin Gimelstob, a former pro who now coaches John Isner. "Courier started destroying guys with the inside-out forehand."
But Jimmy Arias (who was the model that Nick Bollitieri used to fashion this inside out weapon) has wondered if the inside-out forehand had become too popular. "I don't understand why they run around so much," he said. "If my backhand was as good as today's players, then why give up that much court and get out of position?" That, sports fans, is a very good question.
"The inside-out forehand used to be the most important shot, but now the backhand down the line is as important," Murray said. But not all the players are comfortable and or confident in driving this ball up the line on the backhand wing – and if the inside out forehand is played against a vulnerable backhand then all bets are off – on the other hand if Murray or Novak or even Wawrinka are lurking on the other side of the net this inside out stroke can in fact become a liability.
Jack Sock may hit a higher percentage of forehands than anyone else on tour.  And Sock has described the "inside in" forehand as a changeup  but one that may make both players run ever further for their next inside-out shot.
My thought is that to build a game, whether at the professional level, or for you the reader, it is important to balance your strenghts and always have the courage to work on your weaknesses. But too often in our modern game, many players treat the game as a forehand showcase, and when forced to return serve or stay in the rally on the backhand wing – their shortcomings are only too obvious. Raonic, Roddick, Isner, Sock – there is a long list of players with overly big forehands who play with extreme limits on the backhand wing. And truly, those same players run much farther in a match than those willing and able to treat a backhand as a backhand.
Are There Two Types of Serves?
At ETI we have begun to develop articles that "deconstruct" in detail aspects of professional technique. The first attempts were about John McEnroe's volleying technique – Wall to the Ball, and Novak Djokovic's grace, balance and posture on court.
Our next article, coming soon, will deconstruct the serve using Kei Nishikori as an example. And I will discuss whether there are essentially two types of serves, for we see both within the professional game  For years I have tried to understand, as well as to interpret, how the position of the racquet immediately after contact could look so different from one server to another.  Or whether these differences are simply from different types of serves that had been hit.  And as you can imagine, I may even create a bit of controversy with this latest deconstruction on the serve – stay tuned.
TuringSense and the Pivot
You and I learn the game from watching others, from taking lessons, from reading articles and books. And that process has been described as the journey from
Unconcious incompetence, to
Concious incompetence, to
Concious competence, to finally
Unconcious competence – where we can perform an act without concious effort.   Said another way, at this stage, muscle memory drives the performance.
But what if the "concious steps" actually hinder the learning, and get in the way of "feel"? At our club I think the most common performance is of players conciously trying to play, too often in their head where the performance looks forced rather than flowing, where the knowledge of the stroke is more in their cognitive brain rather than in their arms and body. Stuck in overthinking these players often cannot turn the brain off and "just do it."
Consider a SIGNATURE to describe any type of stroke. The signature (read form and style) of Roger's forehand is far different than Novak's. Similarly, the signature of Roger's serve is far different than Andy Murray's. I am not saying one is better than the other, but rather those are entirely different stroke signatures.
TuringSense has developed markerless motion capture – said another way – they have developed a measurement and feedback system that will allow you to develop any stroke, you choose the professional signature (model) and using repetitive rehearsal you can create the feel of the stroke without reference to conscious processes.
So, a number of our online courses are about mastering the fundamentals of a particular stroke, such that your own "signature" of the forehand, the backhand or the serve – is one that is balanced, rhythmic and effortless.  And now I believe that using the Pivot from TuringSense, you can more efficiently work on your tennis "projects" and improve your game without as much reference to conscious cognitive channels.
Years ago I studied something similar in a Master's thesis, and explored "languageless learning" but my electromechanical tool was way more primitive (in fact by light years). I believe TuringSense, and their Pivot will revolutionize as well as simplify the mastery of tennis skills. Stay tuned, much much more to come.
Finally a look back and a look ahead
Within our membership site, ETI Network, we feature a series of lessons each month about a particular theme. Roger and Novak inspired both the August issue which was all about the serve, and featured stills and more about elements of Roger's serve, as well as the September issue which focused on the return, and featured footage that showcased the simplicity of Novak's ground game.
Now our October issue will feature Tactical Elements of Match Play – with reference to how to play the "big points."  Certainly the story about the US Open was Novak's play on the big points.  At one point in the match, following a break point, Novak looked to his box and pointed to his head (indicating he was playing smart).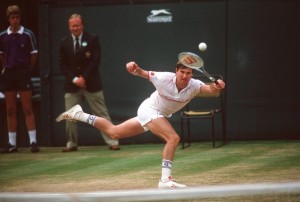 Well perhaps we have overlooked a previous champion who had many of Novak's skills but played equally if not more so "smart."  None other than Jimmy Connors, and some of you may remember how Pancho Segura would diagram a strategy on a luncheon napkin prior to the match.  The talking heads had wondered who returned as well as Novak, and many suggested Agassi.
But darn it, why wasn't the dialogue about who played this game with a great return as well as a real feel for tactics.
If you are interested in our membership site, you can learn more here.  And I'm confident of one thing, all the lessons are designed to help you play better. Really. Check out our October issue – it will help you play better.  Really.