What is your first move when you read the incoming ball?
Move your feet?
Racquet back?
How soon?
When in relation to the bounce of the incoming ball?
For Tom Stow, the first move may have been the most important aspect of the shot. He said, "If it starts correctly, and finished correctly, probably it was a good shot."
But for Tom (and for me) what defines STARTING CORRECTLY?
And if you buy-in to this, you will begin to simplify your game.
The answer is to turn your shoulders, maintain your posture, and balance your body weight on the back foot.
This goes for overhand throwers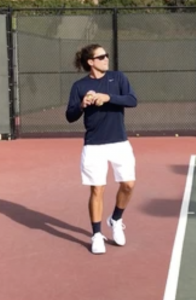 And this goes for forehand preparation as shown by Djokovic