- WEEKEND SALE -

As promised here is a special limited time promotion for membership in ETI Network.  This is a great deal that will allow you to work on your game, each and every month, with an actionable lesson plan - you will play better - Guaranteed.
Save over 70% on our monthly membership site - only $7/month - CLOSES at MIDNIGHT (PDT) on SUNDAY
Every month a specific theme is developed with a series of interrelated lessons.  Imagine your own coach telling you, "This month I want you to practice these skills to improve your return of serve."
The ETI Network does that - it is designed to help you in a systematic way to play better tennis.
30 Day Money Back Guarantee

No questions asked.  If you still think this is not for you I will give you 100% of your money back.
Verified Secure Checkout

Your secure payment is powered by Authorize.net – providing the highest standards in SSL and PCI compliance
SAVE OVER 70%

Pay only $7 per month – discounted over 70% from our regular price for $27/month
Here's what you're going to get access to...
Hundreds of lessons - whether your students are beginners or advanced
Join a like minded online community dedicated to the teaching craft.
Actionable lesson plans with detailed drills you use with your students.
The Network covers all areas of the game - strokes, tactics, singles, doubles, footwork, and the all important - playing the mental game
Totally interactive - uploadable videos - join the online conversation with other coaches
Get these amazing bonuses when you sign up today
Valued at $97, these these 9 products will be added to your account when you sign up and try ETI network for 30 days.
Short, Simple and Inexpensive  - 5 keys to unlock your game
Simplicity. Our game is very complex. But equally, many aspects can be broken down into small bites. Discreet elements.
I am confident that the "5 Keys" format will speed your acquisition of these (and other) tennis skills. Each mini course is broken down into 5 key lessons. Within each course, like all my ETI Products, you can comment or ask a question and I  will get back to you with an answer.
We currently offer two modules: each module has 4 distinct lessons.  You get all 8 for FREE if you try ETI network out for 30 days.
Keys to Tennis Fundamentals
5 Keys to Deadly Drop Shots
5 Keys to the One Handed Topspin Backhand
5 Keys to the Modern Double-bend Forehand
5 Keys to Understanding Grips
5 Keys to the Art of Winning
5 Keys to Compete Against the Pusher
5 Keys to Play Smart Tennis
5 Keys to your Competitive Gut Check
ETI Streamlining - valued at $47
Flowing.
Swinging easily yet hitting hard.
Tennis is a game of rhythm where players are rewarded with effortless swings. But the secret lies (and yes there always seems to be a secret) in using your body and arms naturally, very much like the rhythm and feel of an overhand throwing motion.
Discover the elements of pulling, sequencing, shift of weight and lagging – and imprint this on your forehand and your serve.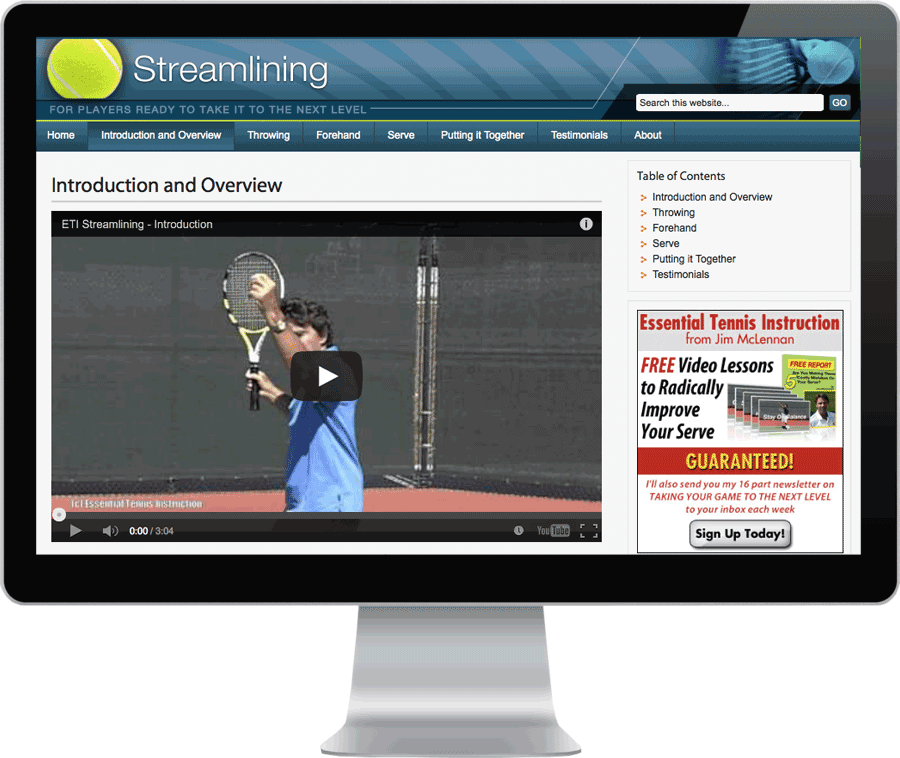 Here is what a few others have to say...
Of all the tennis experts who are around, I consider Jim the absolute guru of the serve. My serve is now the best and most reliable its ever been. I savor serving to close out a set at 5-4, or to stay in it at 4-5. I greatly value the advice Jim gives and what is in his voluminous archives. I recommend ETI to all my tennis buddies and teammates.

Greg Franzo
As one of the few master instructors found online, you consistently simplify the complex for your followers. I hope they appreciate the tens of thousands of hours and years you have devoted to your expertise...it shows! Your site is one of only a handful that I will confidently send my students and online followers to for the fundamentals of the game. Keep up the great work!

Scott Harper
I really appreciate your humble tone combined with a true passion to learn. Most people with even a small part of your knowledge base can have an edge of over-confidence. Yours is the edge of being a true student of the game and you share it eloquently with the rest of us. Thank you for all your contributions.

Joe Dinoffer, OncourtOffcourt.com
I've signed up for two other on-line tennis "courses" in the past and Mr. McLennan's was decidedly the best. Unique, concise, genuinely helpful.

Bruce Wallace,

Reno, NV, USA
Jim possesses a deep understanding of the game and unique ability with words. His thoughts convey the intention of making each reader better through self-knowledge and his words are clear and visual.

Michael Jessup,

formerly ATP ranked 300
Of all the internet coaching providers,i find you and and the ability to download your training videos the most help full.

Fabio Valli,

Adelaide, SA, Australia
ETI Network library lesson plans
Mindful or Mindless – it is all about the ball
Emotions and Pressure – featuring Allen Fox
Mindfulness Resources
Calmness
Relaxation
Test you IQ
Stan Smith on Momentum
Emotional IQ Test
The Performance Arousal Graph
Playing in the Moment
Mindset
Winning the Mental Match
Building Self Confidence – Fred Earle
The Art of Winning – it is all about information
Cat and Mouse
Early to Step To push on the ground – shorten the length of your stride
Moving from the Center
Natural Tennis
Agility and Balance
Tap Tap Tap
The Educated Foot – Fred Earle
Unit Turn and Rehearsing
Back and Back
The Gravity Turn – dynamic imbalance – thanks to Don Kerr
The Footwork Dance – thanks to Tom Stow
Wall to the Ball
Moving to and through the Volley
Bumping the Ball
No Mans Land is No Big Deal
Locking the Wrist
On Court Lessons – the Pick Up
On Court Lessons – the Backcourt Volley
Volleying to the Open Court – graphic
Covering (nearly all of) the Angles
Return the Ball Crosscourt – in front of your partner
Volleying to the Open Court – the untouched winner
Deuce Court Return of Serve Lob
Ad Court Return up the Middle
Plan B
Embracing the Basics of Doubles
Two Against One – tactical plans for Offense and Defense
Get the Return of Serve in Play
Partnering – Communicate, Assist, Compliment – in that order
Sidespin Forehand – up the line – dialogue and demo
The Passive Hinge
Tinkering with the Modern Forehand
Federer Whip
Natural Tennis
Measuring – Simplify your Preparation
Dimitrov – Squaringup on the Forehand
Forearm Rotation
The Heavy Ball
Drop Shot
Third Shot Attack – wide serve and forehand winner
Topspin – crouch then finish up
Inside Out Forehand- graphic
Reverse Forehand Lagging – dragging the hand and racquet
Forehand Leverage and the role of the non dominant arm
Slicing the Slice – underspin backhand
Situational Tennis and the One Handed Backhand
Recovery Floater
Drop Shot Drill
Topspin Mechanics
Wawrinka and Gasquet – commonalities
Roger Federer Swooping Backhand
Slice Drop Hits
Super Slo mo of the Sting
Purposeful Drop Hits
First Serve Return
Sequential Elements of the Federer Serve
On Court Takeaways of the Federer Serve
The Spin of your Service Toss
The First Touch (in the warmup) on your Serve
Grip Issues and the Spin Serve
Taming Your Toss
Cartwheeling – a second look
Milos Raonic – Sybervision
Serving Checklist
The Sidespin Serve
Up and Down – Down and Up
Three Fingered Grip
What is Up with the Serving Window?
Stay Out of Your Pocket
Sore Shoulder(s)
Badminton and the Serve
Stosur kicker out wide to the ad court – build you own
Tossing into the Swing – thanks to Blackie Jones
Pancho Gonzalez – loose and swiveling on the serve
The Leading Elbow
How to Move Forward
Returning the Second Serve
Playing the Big Points – Checklist
Return of Serve – Simplify, Simplify, Simplify
Redirect – Offense, Defense and Neutral Options
Length Rather than Speed
The Other Side of the Net
Creating an Accurate Assessment – match charting
McEnroe in Action – "Mensa Tennis"
Decisions - in a cross court exchange – when to go up the line?
Decisions – you are centered and well behind the baseline
Lob Early – Lob Often
Shorting the Ball
Drilled Out – Trey Waltke (an ex pro) urges coaches to use the entire court
Pushing – why can't there be a better word for it
Sparring – learn to minimize errors
The (all important) First Point of the Game
Patterns of Play – Sampras vs Agassi – a classic point

100% Money Back Guarantee
My guarantee is very simple. Within 30 days, if you are unsatisfied for any reason, you will receive a courteous and prompt refund. No questions, no receipt required, no fine print, no nothing…You just get 100% of your money back if you are not happy.


Instant access to over 400 lessons in ETI Network including videos and instructional material. If you had to take these lessons directly with me you would be spending over $2,500 (not to mention you couldn't watch them over and over again like you can here)
5 Keys Series - get access to all 8 courses – keep these if you try ETI network for at least 30 days! Valued at $50
ETI Streamlining – learn how you can imprint an overhand throwing motion on your forehand and serve – value $47
So that's over $2,600 worth of product that you get for only $7 per month.  Crazy, I know.  What are you waiting for? Let's get started.