I am studying balance, posture, and one one's own (meaning your) awareness and how we can improve our game more from internal focus rather than just on grip, spin swing path and more.
On that score a friend and colleague, Desmond Oon, recommended the following book, which I found very useful.  Do not be put off by the title, though perhaps the author takes a bit too much space to get his points across, but in any event the following book creates an excellent template for playing our game of tennis
Zen Body-Being: An Enlightened Approach to Physical Skill, Grace, and Power
The author, Peter Ralston, describes 5 fundamental principles in the practice of martial arts – and to my mind they are outstanding and totally applicable to tennis.  See if any of the following resonate with your game.
Relaxation
Feeling the whole body
Moving from the Center
Being Grounded
Calmness
Relaxation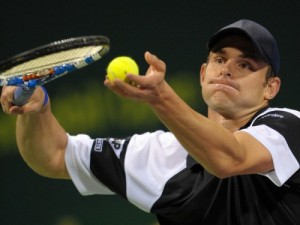 Are you able to enjoy the court, the ball, and truly to play both physically and mentally in a relaxed state of mind.  And yes, a tense state of mind will produce the same in your body.  As regards awareness – your two keys to monitor your own relaxation is to feel the tension in your grip, and especially if there is tension in your face.
Though he served pretty darn well, often Roddick showed tension in his face and this was also present on his forehand.
Feeling the whole body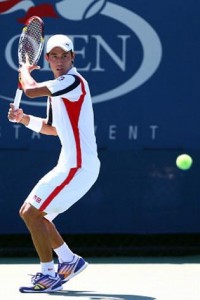 In any and all strokes, the movements come from all parts, some are still, some are active, some are used to slowly build the force (legs) some to transfer the movement up the body (torso) and some to deliver the force into the racquet (arm and hand).  Feeling the whole body is another term truly for coordination – as so many darn things have to combine and coordinate with one another.
Nishikori had a breakout US Open with a strong run to the finals.
His style is simple and efficient, well worth copying on many levels.
Here as regards the whole body consider this up and down – his upper body is poised and "up" but equally his hips are "down" and all appears perfectly balanced as he prepares unleash his forehand drive.
Moving from the Center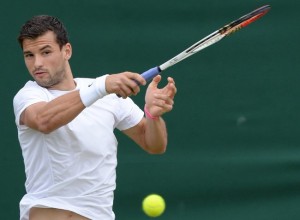 Martial artists must find and perform on their "center" both to attack and defend.  Interestingly, with the modern game becoming more and more about rotation – a similar centeredness applies to those powerful rotational strokes.  Often when you or I are swinging with poor posture – that results in a wobble – robbing power and control.
Here Dimitrov is absoltely centered – note the posture
Being Grounded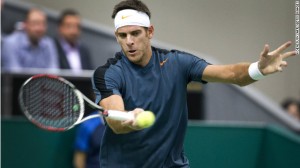 When using the legs, players can shift their weight or use the ground to push up and into the stroke.  But  very few are as precise as Juan Martin del Potro when it comes to being grounded during the hit.
Yes he jumps, but mostly when out of position or when forced to get up off the ground.  Otherwise Juan Martin is as grounded as anyone in the modern game
Calmness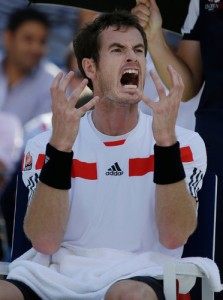 Finally,whether martial arts or tennis, are you able to play calmly?  Can you face the emotional demands of the game, with the swings of momentum, playing up to your and others expectations, truly are you a calm competitor?
There are excellent resources on this – first and foremost is Allen Fox – Winning the Mental Match.
Also something called the performance arousal graph that tries to explain how optimal performance is a blend that is something more than not trying at all, but something less than trying absolutely too hard – and we must all continually seek that space.
I am hoping Andy can find, once again, that calm space he discovered in his Wimbledon victory.
When all elements combine – relaxation, feeling the whole body, moving from the center, being grounded, and being calm – the end result is effortless action.
Effortless Action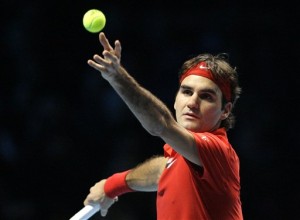 May years ago my first coach implored, "let the racquet do the work."
Meaning, swing easier, get the energy into the racquet head and not in your body, be totally aware of the amount of effort you expend when hitting the ball (or truly when moving, when thinking, the whole process).  Less is more, and no where is this apparent than with players who are rarely if ever injured -
Allow m to introduce (obviously) Roger Federer – no injuries, effortless action both with his feet and with his racquet – wow!
Take a page from martial arts, perhaps even read the book, and explore your "use on court."
We have an expanded version of this article, with video footage and associated lessons for our October issue of the Essential Tennis Instruction Network – check it out.