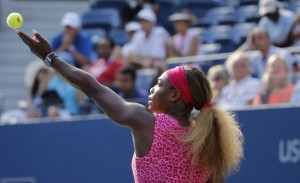 I have read a stat recently, that showed on average 80% of the points in men's or women's tennis concludes with an error, and only 20% of the points are settled with winners.
We see how hard all the players hit the ball, many of us emulate the new "power game" – but at the end of the day ours is a game of error management – and truly "defense does win matches."
I heard that phrase from Brad Stine (former coach of Jim Courier) at a local junior tournament, and that truly does align with the stats from above as gleaned from Brain Game Tennis written by Craig O'Shannessy.
Certainly in her run up to the women's finals, Caroline Wozniacki's defensive skills were lauded, especially against the tactical bereft Sharapova, who Mats Wilander described as someone who hits the ball left, then right then left. Certainly Maria's power has taken her to the top echelons of our game – but if the accuracy of her power game lets her down, the defender can win.
Same for Monfils, especially against Dimitrov.  Often Gael floated the ball to Grigor's forehand, tantalizingly slow,where somehow Dimitrov overhit, struggling to find the rhythm against Monfil's "no pace floaters."  (Haven't we all played against just such apusher?)
The finals were an entirely different story- men's and women's – where the serve ruled the day.
First and foremost, take another look at the Serena photo.  Best serve in women's tennis, perhaps even best single stroke in the history of the women's game.  But it begins with, and may revolve nearly entirely about her toss.  Where most of the women serve poorly (this is true) the common identifying feature is an overly high toss and an inability to really master a confident spinning second serve.  Not so with Serena, and even in the final Wozniacki's serve was no match in speed or really even inconsistency.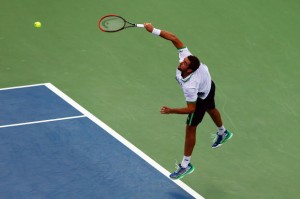 And as to Marin Cilic, he recently teamed up with Goran Ivanisevic – and apparently they tinkered ever so slightly with his serve – to copy something of the quickness and simplicity of Goran's delivery.  As regards conjecture (yes I am at it again) I wonder if it is more difficult for receivers to "time and read" service deliveries where the toss is lower and the motion is somehow quicker.  Along with Marin and Goran, remember Roscoe Tanner and Kevin Curren (certainly there are more on this short list) who seemingly hit the toss on the rise.
Marin played great off the ground, Federer said the same as regarded Cilic's return of serve, but at the end of the day it is extremely difficult to play against a dominant server.
The stats between the two final matches are remarkably similar.
Aces – mens 17 to 2, womens 7 to 3
Winners – mens 38 to 17, womens 29 to 4
Points won on serve – mens 74% to 58%, womens 93% to 49%
Now it is for you and I to continue working on our games, managing errors, working on the return of serve – but truly do you regularly practice your serve – and as to rhythm how high is your toss?