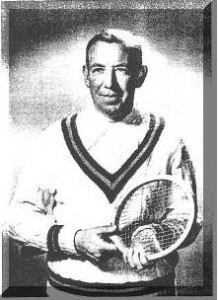 1926 NCAA doubles titlist with Edward Bud Chandler
1931 – 1942 Pro Claremont Country Club
1932 – 1943 Coach UC Berkeley
1942 – 1960 Tennis Pro and manager Berkeley Tennis Club
1965 – 1973 Tennis Director Silverado Country Club
1983 Tennis Education Merit award for outstanding service rendered to the tennis education program by a teaching professionals was presented posthumously to Tom Stow.
Tom Stow was a man known among his contemporaries as "the coaches coach."
Over the course of more than half a century, Stow was the most successful and respected coach in Northern California, working at the Claremont Country Club, Berkeley Tennis Club, and finally the Silverado Country Club.
Although best known for his work with Grand Slam champion Don Budge, Stow also coached two other players who were later inducted into the International Tennis Hall of Fame, Margaret Osborne DuPont and Sarah Palfrey Danzig.
"What Stow contributed to tennis coaching can be likened to what Amos Alonzo Staff, Pop Warner, and Knute Rockne did for football" said Jack Kramer.
Even in his later years Stow was sough out by other professionals for advice on how to improve their performances.  He helped foster the careers of such successful teaching pros as Dennis Van der Meer, John Gardiner and Steve Stefanki, the United States Junior Davi Cup and Olympic tennis coach.
His manner was gruff and forthright, which instilled fear into some."He taught a philosophy of life through discipline.  He taught you how to know yourself, to dig down deep.  You came away with an inner strength." (Steve Stefanki)Jack Kramer, "Stow was a coach's coach.  Even in the later years, some of the foremost coaches would seek his advice.  He had a knack for working with exceptional talents.  He could make the person extend himself way beyond normal."
Gladys Heldman, the founder of World Tennis magazine, "I have seen, written about and worked with some of the best teaching pros of this generation.  Many are great.  But Tom Stow is the maestro."