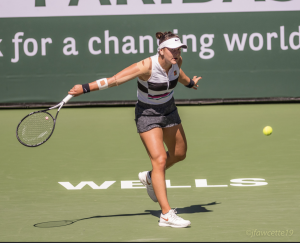 Bianca the problem solver.
Belinda Bencic on Bianca Andreescu: "She won Indian Wells, Toronto, she's final here. I'm not very surprised about this. She has put together great results. For me it's not a surprise. I think she's a very smart player on the court, plays different than other players. That's why she's good."
 Her coach, Sylvain Bruneau said, "She likes to change it up and do different things and use the entire court and different angles and spins. She likes to see how her opponents are going to handle some of the shots she makes."
Andreescu admittedly struggles to keep stimulated with repetitive drills, which prompts Bruneau to always try to keep the practices creative, working on different strokes and combinations instead of the same routines over and over again.
"It's a lot of fun because then you work with a player who is MULTIDIMENSIONAL, who can do a bunch of things,"  Bruneau said. "So it makes it fun in practice, because you feel like you have so much to address."
Well, for me this is about using all the court.  About the willingness to move forward.  The ability to finish at the net.  The value of an underspin backhand.  And so much more.
If you are wanting to become more creative, to experience the art of the game, more than just winning or losing, take encouragement from the following,
Drilled Out:            An ex-pro urges coaches to use the entire court
By Trey Waltke            published in the ATP Newsletter 1980
Having recently retuned from the Easter Bowl Junior Tennis tournament, I couldn't help comparing this group of juniors to my group of 15 years ago.  True, these comparisons are what all older players do, but nevertheless, I couldn't help myself.
As a group, the kids coming up today have harder forehands and harder backhands.  Their ability to hit outright winners from the baseline is amazing.  Everyone seems to have a great two-handed backhand or a huge topspin forehand.  These kids can go corner to corner forever.
But, until someone stages the National Drilling Championships, when are these kids going to learn how to play spontaneous all court tennis?
There is an area on the court, which kids today seem to view as the forbidden zone, but I like to think of as the forgotten zone.  I'm referring to the middle of the court, or the midcourt, the area about three feet behind and in front of the service line.
The advantages of using the midcourt are incredible. To name a few:
It shortens points and saves energy. The moment you sense your opponent off guard or is not able to make an offensive shot, slyly creep in to the midcourt.
Your opponent will always be trying to second-guess your whereabouts on the court.  Cutting off opponent's floaters in the midcourt, gives the added dimension of constant pressure on whomever you are playing.
This is the BIG ONE.  Relieves boredom and burnout later in your tennis career by encouraging creativity during play.
During his 9 year professional playing career, Waltke defeated four #1 players John McEnroe, Jimmy Connors, Stan Smith, and Ilie Nastase, and was consistently ranked in the world's top 50.
I contacted him about the above article, and asked for an update, to which he replied,
"I think it's much easier to coach a kid to be a one dimensional baseliner rather that cater to one's individual strengths and brain type. They can reach a fairly high level of proficiency very quickly if they're "drilled out" on forehands and backhands. Hence, coaches get praised for producing lots of highly ranked juniors that never make the leap to the next level that requires improvising and problem solving."