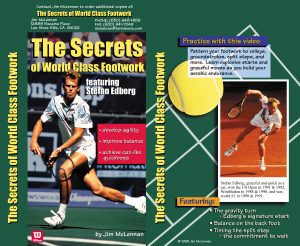 There is a story here.
Some many years ago a talented high school senior filmed "The Secrets of World Class Footwork" (sowcf)
He had been a tennis student – and this was Jon M Chu
If you have seen Crazy Rich Asians you may know of him, of his vision, his talent – and for sure there will be much more to come with him over the years.
So for the fun of it I will upload some of the clips from SOWCF – but the story still resonates.
For the footwork of Stefan Edberg, featured in SOWCF, is truly identical to the starting moves of Kei Nishikori, Sloan Stephens and even Rafa Nadal.
The secret then (as now) has to do with which foot you lead with when moving very quickly to a wide ball.
Do you jab (meaning an initial shuffle step), crossover with the opposite leg, or turn the hips and take a negative step with the leg closest to the ball?
Otherwise known as a drop step, floating pivot or a gravity turn.
Here is another look.