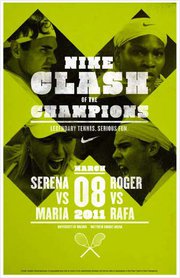 I have been lucky enough to have seen professional tennis at Wimbledon (first row center court), the US Open, and Davis Cup in Portland and in Birmingham, the SAP Open and more.
The combination of talent, venue, atmosphere, crowd participation, energy and noise made this the most remarkable tennis experience I have ever had – and I genuinely believe all of the 12,000 attendees (tickets sold out in less than one hour) who packed the Matthew Knight Arena would totally agree.
Incredible.  Unforgettable.  And so much darn fun.  Hats off to Nike (more on that later).
"The Clash of Champions" was at one point a series of professional wrestling television specials aired by World Championship Wrestling.  And true to that format, the players were introduced one at a time, each on descending from the upper reaches of the arena, spotlights focused first on Maria Sharapova, then Vica Azarenko, then Rafael Nadal and finally Roger Federer.  Standing ovations for all.  As they assembled on court for more introductions, who walked in from the corner (just like in wrestling) but none other than John McEnroe.  Unannounced, his entry brought the house down – and or everyone on their feet yet once again.  And as we all expected, there was more to come on this, but no one really knew what or when.
I was fortunate to have a press pass and film from the baseline.  So darn close I was hit by a ball, nothing serious, but the proximity to the players, the camera angle on serve and return, even the chance to watch and listen to their feet – amazing – and I have a lot more footage on that to come.
Thoughts in no particular order:
Vica Azarenko – basic player, no glaring weaknesses, and a bright future.  She played even with Maria until the tiebreaker, which she swept 5-0.
Maria Sharapova – coming back from shoulder surgery, looking good around the court, but her second serve remains a serious liability
Rafael Nadal – strong as a bull, huge whipped forehand winners up the line in singles against Fed, open stance reverse forehands and textbook step in and hit two handed backhands
Roger Federer – he uncoils up and into the serve like a snake with a whipping bite at impact.  Quick as a cat, and on this night he was every bit as playful.And his wide serve to the deuce court appears to be his go to weapon – or at least against Rafa.
The crowd came to its feet in the mixed doubles match, when Federer mimicked the McEnroe serve motion, egged Mac to step on court, to which Mac rose to the occasion to play first a so-so point to Rafa as he looked stiff and was not in any way warmed up.  But then to the deuce court he opened with a bigger serve, a few volleys, then an acrobatic stab volley covering the line against a ferocious Nadal pass, finishing with a pinpoint overhead winner.  You had to see it to believe it.
Finally, during concluding remarks, Phil Knight the founder of Nike was introduced, to a loud chant from the audience of "Uncle Phil."  His generosity to his alma mater, as well as to Stanford, is legendary.  But equally if not more so, he has held Nike in the forefront as a total supporter of our game of tennis.
Hats of to Nike for this outstanding event
PS – Uncle Phil, I would like to reserve 100 tickets for Clash of the Champions II in 2012.